Julie Pearson NDSF GCGI Cert Ed AFIoPF
Floral Designer & Trainer
Hello, my name is Julie Pearson.
I am a floral designer, lecturer, NAFAS national tutor & area demonstrator.
I have nearly forty years' experience in the floral industry, including managing my own floral event company.
No one likes a clever sod, but I am qualified, professional, diverse, fun, inclusive and a knowledgeable teacher/practitioner.
I do not know everything, but I know a great deal with an enthusiasm and curiosity to constantly learn more.
Prior to the COVID pandemic and national lockdowns, I was teaching & demonstrating including workshops at many RHS shows, The National Bridal Shows and the prestigious Leeds Castle.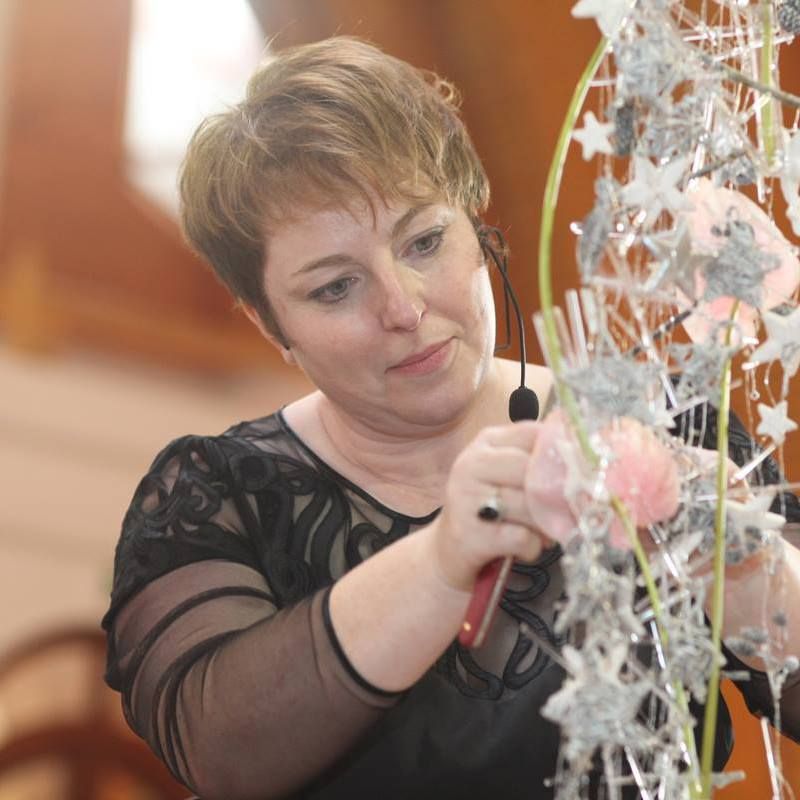 My highest achievement is winning two RHS Chelsea Flower Show Silver Medals in 2018 and 2019.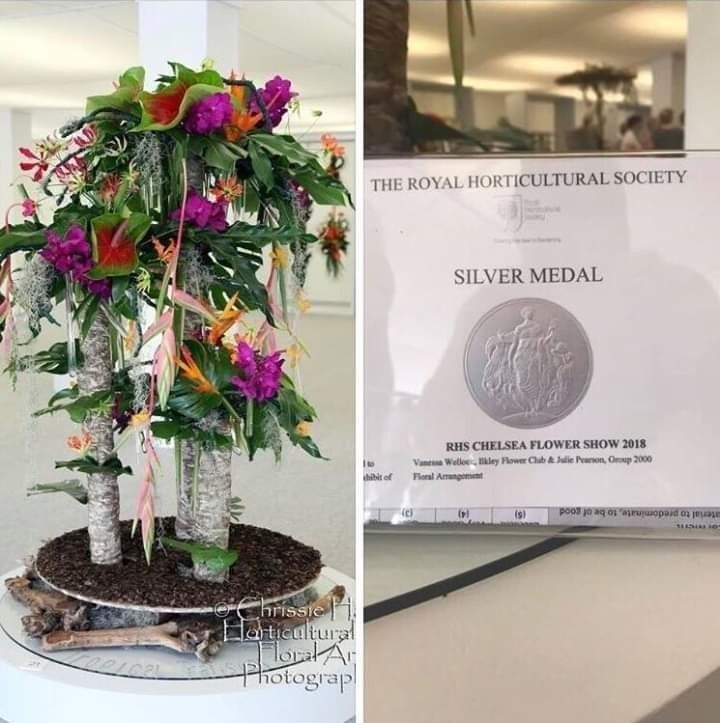 Silver Medallist 2018 RHS Chelsea Flower Show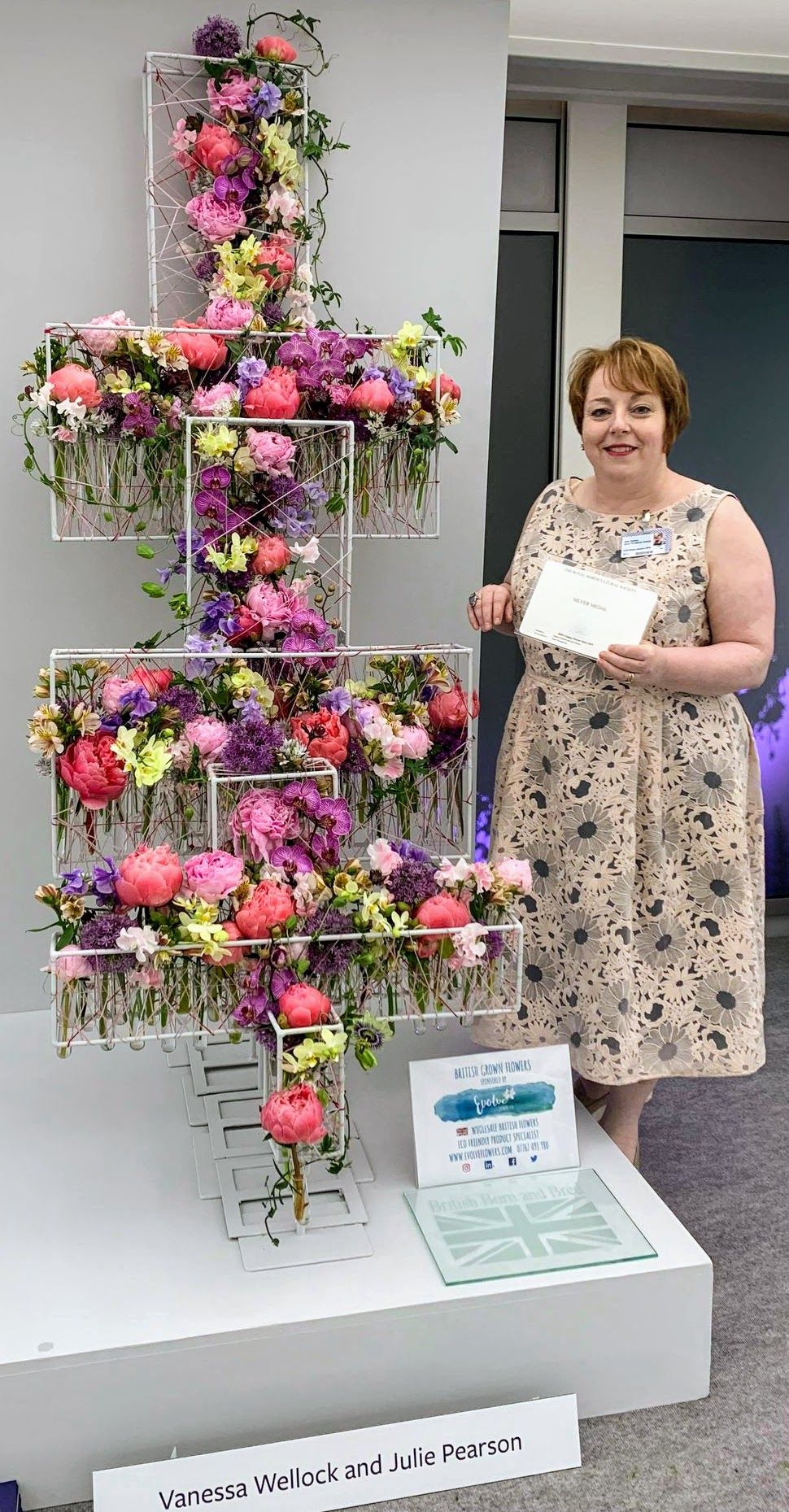 Silver Medallist 2019 RHS Chelsea Flower Show
I demonstrate to and train professional florists, NAFAS members, students at FE colleges and universities.

My ethos is to create educational learning opportunities which are inclusive and affordable to all. Regardless of the reason to learn and evolve, creating with flowers purchased from the florist or picked from the garden is great for your general wellbeing and mindfulness.

I am the founder of the community group: Blooming Great which was awarded a Big Lottery grant of £10,000 in January 2018.

From this we created a safe, healthy fun environment where vulnerable young people could learn, network, make friends and build confidence through flowers and crafts. I am immensely proud of our achievements.

Blooming Great reached 545 young people through 35 workshops in twelve months. On a personal level, I am married with two-grown up children and live in Bolton in the North West of England but work all over the UK and even in Europe.

If you have an interest or even a passion for learning more skills in floral design - at whatever level - please contact me for a discussion and I'd be happy to help you.

Julie x
Qualifications
Master Diploma in Professional Floristry - formally NDSF

GCGI - City & Guilds Graduateship Professional Management Award

Cert Ed - Certificate in Education
Credentials
Academic Fellow of the Institute of Professional Florists AFIoPF
Member of the British Florist Association
I am a NAFAS National teacher & area demonstrator - Mercia & North Wales 2019
Memberships
I am a member of four clubs
Harwood & District Flower Club -

Horwich Flower Club-

Bolton
Radcliffe Floral Art – Whitefield, Bury
Member of National Association of Flower Arrangement Societies (NAFAS)
Exhibitions, Demonstrations & Training
Leeds Castle exhibit 2018
Demonstrating at Leeds Castle 2018
Teaching a three-day seminar in Cluj, Romania
To discuss courses, training, demonstrations or events, please contact me on 07922 090 226 or click below to email me
Created with